AFE S.A. SICAV-RAIF (AFE) invests in a diverse range of primarily non-performing debt and real estate assets across the U.K. and Europe and provides the central Asset Solutions platform utilised by Veld Capital.
Veld Capital was created from the carve out of the AnaCap Credit business from AnaCap Financial Partners. AFE has broad based expertise spanning unsecured and secured consumer, SME and corporate debt as well as direct real estate, further benefiting from the wide network, extensive track record and expertise in origination, underwriting and asset management that Veld Capital (formerly AnaCap Credit) has developed since inception in 2009.
AFE released the Financial Results for Q3 2023.
AFE SA SICAV-RAIF
€325,000,000* Senior Secured Floating Rate Notes due 2024
Three-month EURIBOR plus 5% per annum, reset quarterly
Interest Payment dates quarterly on February 1,  May 1,  August 1 and November 1 commencing on November 1, 2017
Trade Date 13 July 2017
Maturity August 1, 2024
*During Q2 2019 €17,500,000 Senior Secured Floating Rate Notes were purchased and cancelled with immediate effect.
Management and Governance
The Company is an alternative investment fund within the meaning of the Alternative Investment Fund Manager Directive and is a reserved alternative investment fund within the meaning of the RAIF Law.
The persons set forth below are the current members of the Board of Directors of the Company:
Eric Verret
Chris Ross-Roberts
Audrey Lewis
Graham Parry-Dew
Eric Verret
ERIC VERRET
Eric is a Managing Director of Veld Capital. Eric joined the credit team in 2019 and is responsible for risk management and capital markets activity across the business, serving as Finance Director of its permanent capital vehicle.
Prior to joining Veld, Eric was Head of Private Debt at NN Investment Management where he was managing a portfolio of illiquid credit investments. Prior to that, Eric spent 13 years at GE Capital in Credit, M&A and Capital Markets functions and also practiced as a capital markets lawyer at Clifford Chance in London. Eric holds a MBA from INSEAD, a BA in Law from Laval University in Canada and is a CFA charter holder.
Chris Ross-Roberts
Audrey Lewis
Graham Parry-Dew
Carne Global Fund Managers Luxembourg S.A. is a public limited company, incorporated and existing under the laws of Luxembourg
The AIFM will receive advice and assistance in the performance of its duties from the Investment Adviser (Veld Capital).
Veld Capital requires unanimous approval from its Investment Recommendation Committee prior to making a recommendation to the Portfolio Manager.
The members of the Investment Recommendation Committee are:
JUSTIN SULGER (ADVISER)
Timothy Ayerbe
Eric Verret
Konstantin Karchinov
JUSTIN SULGER (ADVISER)
JUSTIN SULGER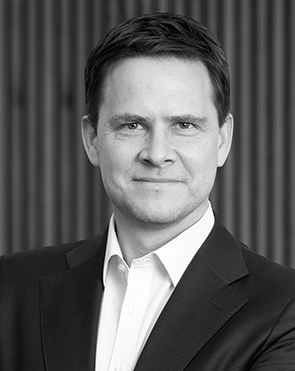 Managing Partner
Justin is Founder and Managing Partner of Veld Capital. Justin joined AnaCap Financial Partners shortly after inception in July 2006, before launching its Credit investment strategy in 2009, which has raised more than €2.7 billion to date, expanding its investment focus across a broad range of credit-oriented asset types on a pan-European basis. Following the carve-out of AnaCap Credit into Veld Capital in 2022, Justin continues to manage the business and serve as Chief Investment Officer, based in London.
Justin was previously a Vice President in Morgan Stanley's Securitised Products Group in London. He began his career in Fixed Income at Goldman Sachs in New York before relocating to London. Justin holds a B.A. from Princeton University in the United States.
Timothy Ayerbe
Eric Verret
Konstantin Karchinov